Conference Dinner
Friday, August 23
SUD Lisboa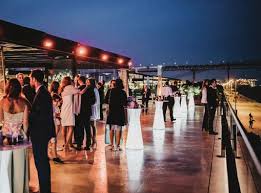 Participants are invited to join the highlight of the social program. The Conference Dinner will be held at the restaurant SUD Lisboa, which offers a wonderful view of the Tagus River and it is located close to the famous Belém area.
Admission
The dinner costs €80 per person, which is not included in the conference registration fee. Participants can register their partners and guests (max. 2 persons). Ticket(s) for this event should be purchased during conference registration through our online management platform (ConfTool). The Conference Dinner has limited availability and places will be given away to those who pay first.
Program
During the dinner, a distinguished member of the association will be honored for his outstanding contributions to the association.
After the official closing of the dinner, a cash bar will be available for guests who wish to network in the exclusive rooftop terrace.
Transportation
Buses will leave at about 18:30 from the different locations. Please book your ride.
Dress Code
The dress code is business casual. Although the event will take place during the summer, it might get chilly late at night. We recommend bringing a jacket to the dinner, as the temperature might decrease in the evening.
Impressions of SUD Lisboa
Location
SUD Lisboa, Avenida Brasília, Pavilhão Poente, 1300-598 Lisboa, Portugal